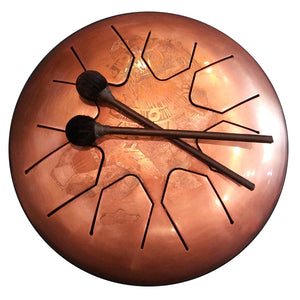 Sonido Tongue Drum-Copper
Regular price $600.00 Sale
Product Information: A tongue drum is the newest type of drum in the steelpan drum family. Its rich, long tone tends to accompany brighter tones. It is for those who intend to make custom soothing sounds for professional or fun purposes. This kind of drum sits between a conventional Caribbean drum and a wooden tongue drum.
Like a steelpan, it is useful for playing a melody, though it delivers a softer output. In addition to melodies, tongue drums are useful for playing bass lines and chord progressions. It is usually played on your lap with mallets or by hand.
Our steel tongue drums measure 4.5" long and are 12" in diameter. 
Mallets are included.