NEW YEAR'S EVE PILGRIMAGE
TO THE MOTHERLAND
Visit Senegal & The Gambia with Da'African Village, Africa Love and Thiossane West African Dance Institute!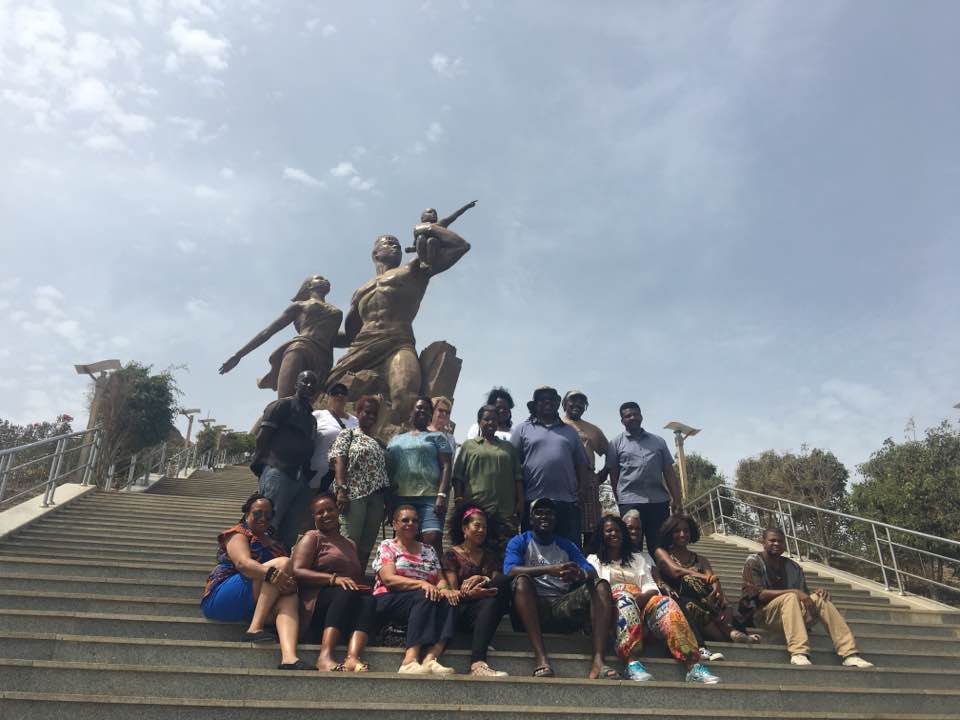 Roundtrip airfare from Los Angeles, CA or Columbus, OH
All airport transfers & complimentary airport assistance
11 nights in 4 and 5-star hotels
Meals as listed B, L, D (breakfast, lunch, dinner)
All excursions and entrance fees to game parks/reserves
Extensive pre-tour information
Comprehensive documents and itinerary
Transportation in an A/C motor coach
Assistance of an English-speaking tour guide

DAY 1
Saturday, December 21
TRAVEL TO DAKAR, SENEGAL

Travel from John Glenn Columbus International Airport (CMH) in Columbus,OH, or from Los Angeles International Airport (LAX) in Los Angeles, CA toBlaise Diagne International Airport in Dakar.

DAY 2
Sunday, December 22

DAKAR CITY TOUR

7:15 AM arrival from U.S. Da'African Village representative meets andtransfers group to Novotel Dakar. Check-in, orientation and meet withtailors, designers and hair dressers. Enjoy lunch offered by Da'African Village,then start the city sightseeing tour. Watch basket weaving, glass tilepainting, or wood carving at Marché Kermel, a local market, housed inbeautiful open-air Victorian style buildings. Then proceed to IndependenceSquare (Place de l'Indépendance), the Presidential Palace, Our Lady ofVictories Cathedral, the African Renaissance Monument (Monumentde la Renaissance Africaine), a 49-meter tall bronze statue, and thehandcraft village of Marché Soumbédioune. Welcoming dinner.

Meals: [L/D
DAY 3
Monday, December 23

PILGRIMAGE TOUR TO GORÉE ISLAND
9:00 AM breakfast then travel by ferry to Gorée Island, the once departurepoint for millions of slaves. Upon arrival, enjoy lunch at Le Saint-GermainRestaurant, then tour the ancient slave house to see where slaves were jaileduntil their departure to the Americas. Visit the IFAN Museum, an open-airmarket, a cathedral, and much more. Back to Darkar at 5.00 PM.
Meals: [B/L

DAY 4

Tuesday, December 24

PINK LAKE & DINNER WITH KOUNTA FAMILY AT KEUR MASSAR
After breakfast, depart to the mysterious Pink Lake through the historictowns of Pikine, Thiaroye and the Garden ballet of Niayes. Discover, onjeep, the incredible rose colored body of water surrounded by sands dunesthen meet with the Kounta Family at Keur Massar for dinner. Back to Dakar.

Meals: B/L/D

DAY 5
Wednesday, December 25

FREE DAY
AM breakfast. Enjoy a free day and three (3) dance classes all day.

Meals: B

DAY 6

Thursday, December 26
TOUBAKOUTA (SALOUM ISLAND) TOUR

After breakfast, visit Sine-Saloum, a marsh area covered with mangroves andtraversed by the inextricable network of canals and lakes formed by thedelta of two small coastal rivers Sine and Saloum. In the evening, board amotorized boat (pirogue) to discover a reposer of birds. Overnight at KeurSaloum Hotel.

Meals: B/D

DAY 7

Friday, December 27

TOUBACOUTA / BANJUL/ JUFFUREH, THE GAMBIA
After breakfast, embark on an air conditioned bus to Banjul, the capitalcity of The Gambia. Visit the ancestor village of Alex Haley in Albreda,then travel via pirogue to Kounta Kinteh Island (formerly known as JamesIsland). Return to Albreda for ferry journey back to Banjul. Check into LaicoAtlantic Beach Hotel (or similar) late afternoon. Enjoy delicious buffet dinner.

Meals: B/D

DAY 8

Saturday, December 28
BANJUL
After breakfast, begin a full-day tour of the city of Banjul including visits toMama Tie Dye Factory, Kachikally Museum and Crocodile Pool, and otherpoints of interest. Back to your hotel for dinner and overnight.

Meals: B/D

DAY 9

Sunday, December 29

BANJUL/SALY RESORTS

Board the ferry to Barra Town and return to Senegal through a MandingoVillage. Travel to Saly Resorts. Check-in at Neptune Hotel. Evening danceclass, dinner and overnight.

Meals: B/D

DAY 10

Monday, December 30

SALY RESORTS/DANCE CLASS

After breakfast enjoy a dance class or a day of personal exploration. Relaxaround the pool, then dinner and overnight.

Meals: B/D

DAY 11

Tuesday, December 31
SALY RESORTS/DANCE CLASS & NAMING CEREMONY

Optional: Tour the Bandia Game Reserve and the towns of Joal-Fadiouth.Enjoy breakfast then a dance class. New Year's Eve Naming Ceremony withentertainment.
Meals: B

DAY 12

Wednesday, January 01
SALY RESORTS/DANCE CLASS

Happy New Year! Enjoy a dance class.Optional: Tour the Bandia Game Reserve and the towns of Joal-Fadiouth.10:30 PM transfer to Blaise Diagne International Airport for your returnflight to either Columbus, OH or Los Angeles, CA.

Meals: B

DAY 13

Thursday, January 02
DEPARTURE

1:15 AM board your flight back home.

Itinerary is subject to change.