FRIDAY, JANUARY 18 -
PAN-AFRICAN SOUL SESSIONS (PASS)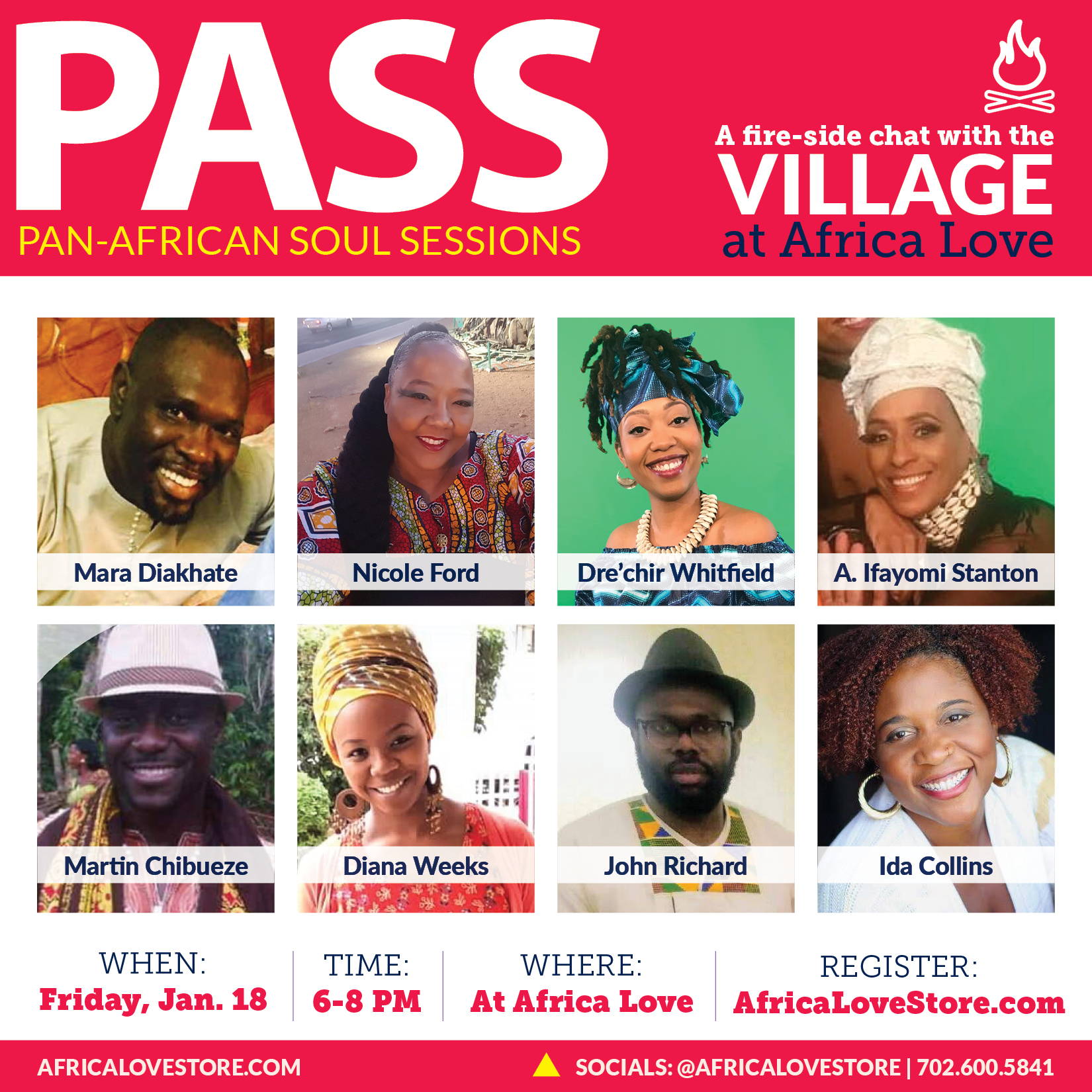 EVENT TITLE: Pan-African Soul Sessions - 1st Community Forum

WHEN: Fridays, January 18 | 6 PM – 8 PM

WHERE: Africa Love | Town Square Las Vegas
6539 Las Vegas Blvd South X-114, Las Vegas, NV 89119
COST: FREE and open to the public
DETAILS: Join the Africa Love team as we kick 2019 off with empowering, positive, uplifting vibes at our bi-monthly Pan-African Soul Sessions Community Forum! Come meet the team and bring your community ideas to the table! Pan-African Soul Sessions are bi-monthly forum style conversations where those who identify and have an interest in Africa, can bond through transparent and uplifting conversations centered on its culture, entrepreneurship and positive family dynamics.
Our January forum objectives are as follows:
Meet and greet the PASS and Africa Love team as well as the community in attendance a.k.a "the village"...or as we affectionately like to say come "meet your cousins"
Discuss our community vision
Participate in a community fire-side chat that is open and transparent
Local Business spotlight
Questions & answers
JANUARY 5 -
DRUM CIRCLE AT AFRICA LOVE
EVENT TITLE: Drum Circle at Africa Love

WHEN: Saturday, January 5 | 5 PM – 7 PM

WHERE: Africa Love Store

6539 Las Vegas Blvd South, X-114, Las Vegas, NV 89119
COST: FREE!
Bring your own drum or rent one at $10 for adults and $5 for kids
DETAILS: Join Africa Love for our monthly drum circle. Drummers, dancers, acoustic musicians, music lovers, beginners, experts are all invited! NO EXPERIENCE NECESSARY